Certifications
World Pac Paper is a certified Minority Business Enterprise (MBE) and a National Corporate Plus® member of the National Minority Supplier Development Council Inc.® (NMSDC), which was incorporated in June 2004.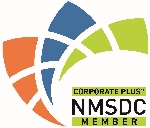 Corporate Plus® is an unprecedented membership program of the National Minority Supplier Development Council, Inc® (NMSDC) for the highest caliper minority business enterprises that have proven capacity to handle national contracts for major corporations.  The Ohio Minority Supplier Development Council is the home Council for World Pac Paper.  Our company, which was sponsored by Macy's, Inc., was inducted into this prestigious group in 2011. Of the approximately 12,000+ certified MBE's in the US, there are less than 100 (89 total) certified MBE's that are Corporate Plus® Members.
World Pac Paper is committed to sustainability.  We understand the need and value for supporting the environment.  We do our part by making sure we work with environmentally responsible manufacturers and use the best industry practices for the procurement of paper and packaging products.